Craftiviti
Regular price
Sale price
RM95.00
Unit price
per
Sale
Sold out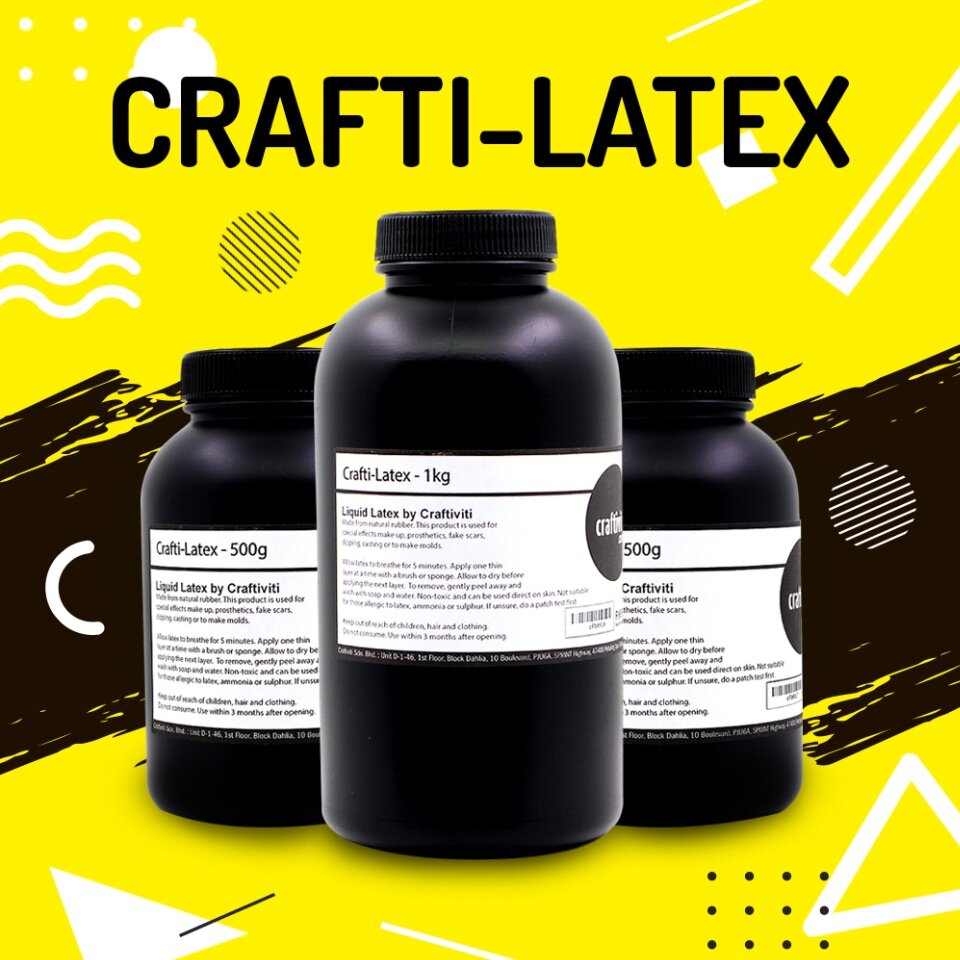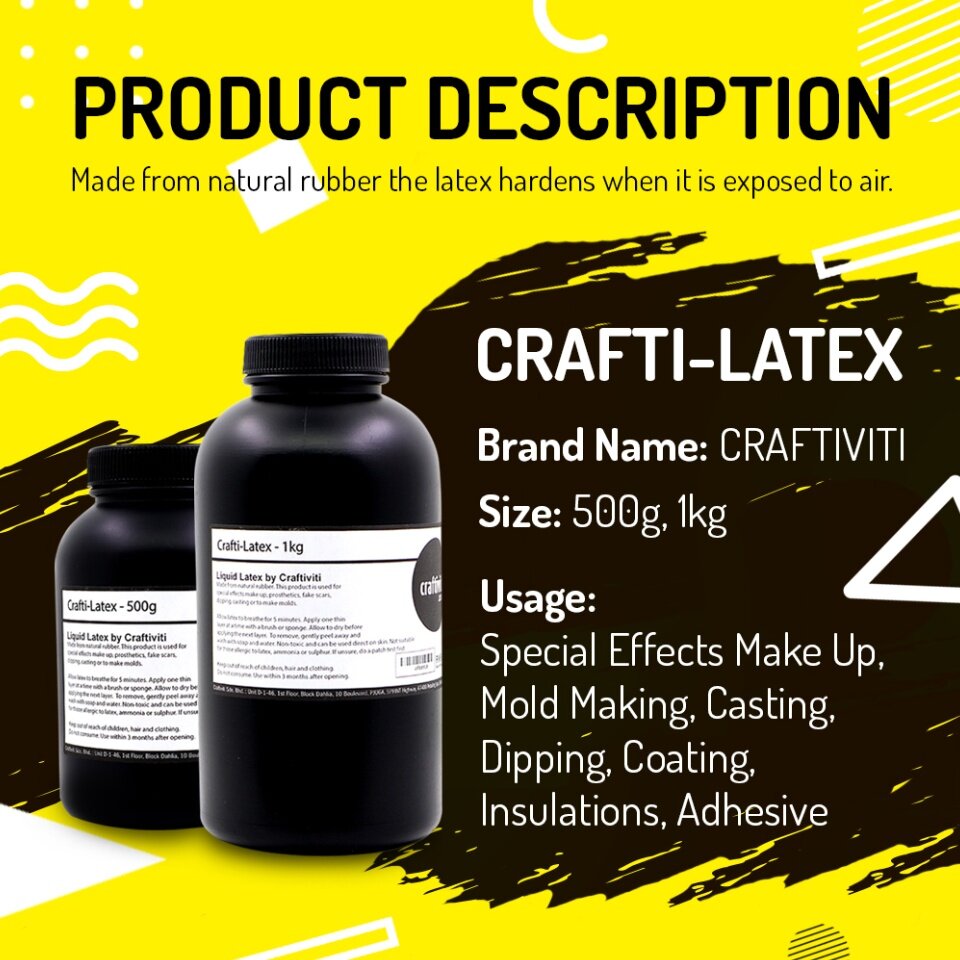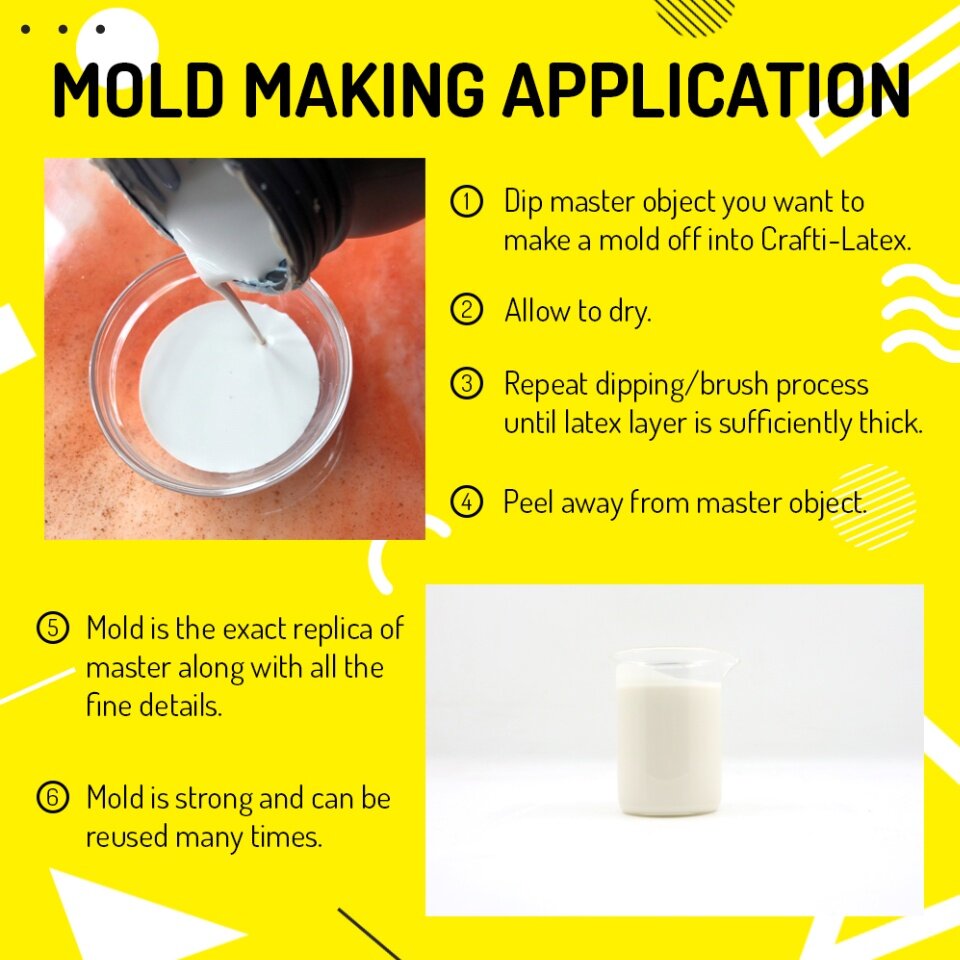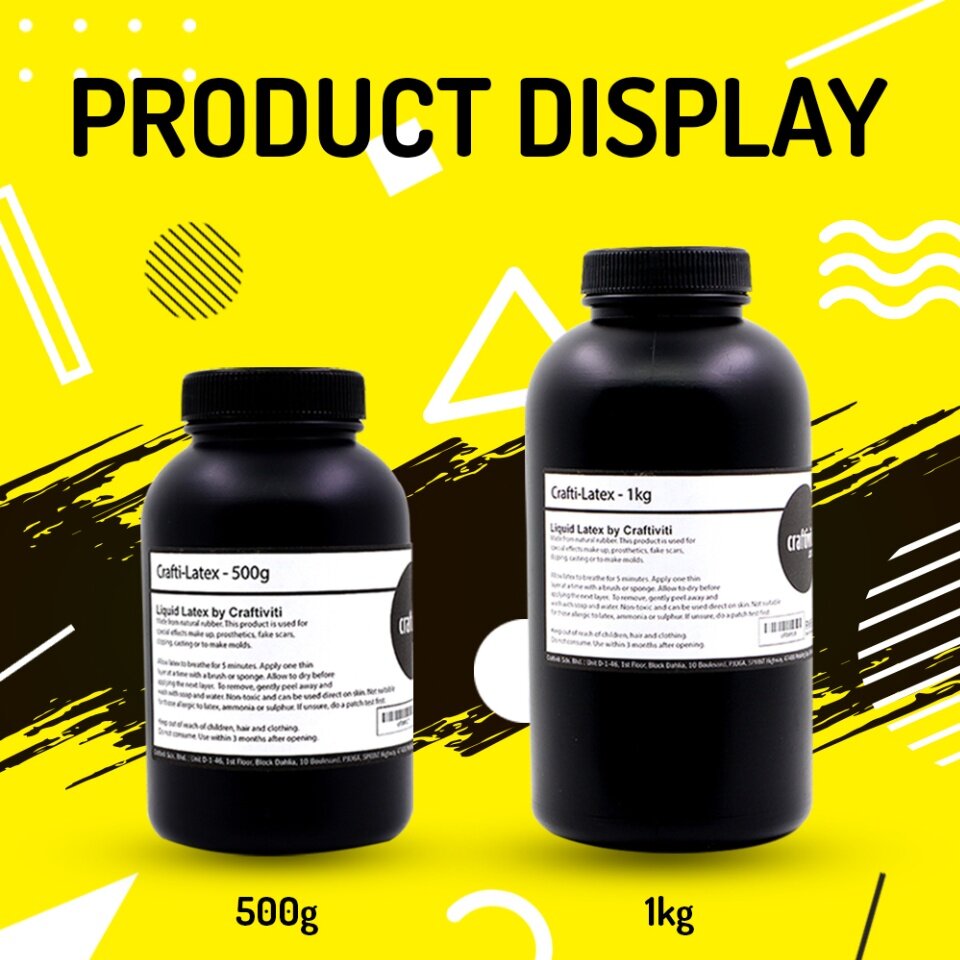 Crafti-Latex is Craftiviti's special Liquid Latex. It is suitable for a variety of special effects and mold making applications!
Latex or Liquid Rubber is one of the most essential materials for Special Effects artists around the globe to create realistic fake skin, wounds, scars, blister, burns, wrinkles, aging effects, alien or zombie features. Used in the entertainment industry, movie and video shoots, stage and theatre makeup. Made from natural rubber the latex hardens when it is exposed to air. It can be brushed on to prosthetics molds to create body parts such as masks, ears, noses and endless other creations.
Crafti-Latex can also be used for resin art. It can be applied on resin coasters to protect the back and allow easy resin-drip removal when adding more coats of resin. *scroll down for a video demo!
Crafti-Latex Technical Data Sheet
Usages:
Special Effects Make-Up
Mold Making
Casting
Dipping
Coating
Insulations
Adhesive
Crafti-Latex is a trademarked product of Craftiviti.
Benefits of using Liquid Latex:
Captures the finest details during mold making
Does not require a hardener as it hardens when exposed to air
Fast-drying in thin layers
Creates a second skin feel
Skin-safe
Non-Toxic
Endless possible special effects creations!
Makeup Application:
Shake the bottle well and keep it open for 5 minutes so it can vent out the ammonia.
Remove hair or apply a thin layer of Vaseline onto skin to avoid hair sticking to latex.
Apply one thin layer of Craft-Latex at a time with a brush or sponge.
Allow drying before applying the next layer.
Create a desired design with simple materials such as cotton, tissue or wool. (See video for more ideas.)
To remove, gently peel away and wash with soap and water.
Mold Making Application:
Dip master object you want to make a mold off into Crafti-Latex. (You can also brush on)
Allow drying
Repeat dipping/brush process until the latex layer is sufficiently thick
Peel away from the master object
Mold is the exact replica of the master along with all the fine details.
Mold is strong and can be reused many times. 
How to remove Crafti-Latex from the skin:
Gently peel latex layer away
Clean area with a light soap and water solution
Caution
Crafti-Latex is non-toxic and can be used directly on the skin, however, it is not suitable for those allergic to latex, ammonia or sulphur.
If unsure, do a patch test first.
Keep out of reach of children, hair, and clothing.
Do not consume.
Storage
Store in a cool, dry and dark area.
Keep the lid on at all times. Do not expose to air and water.
Shelf-life of natural liquid latex is 3 months upon opening.
Craftiviti is an Award Winning provider of experiences and supplies to handcraft your personal care and spa products.
Share
View full details