Candle gel is manufactured from specially processed mineral oils. Gel wax is only to be used as a container wax. The gel itself is not sturdy enough to stand alone like pillar wax is.


It burns longer than paraffin wax.
Used for decorative candles and ideal for embedding seashells, coloured pebbles, glitters and more.
This gel is transparent but coloured and can suspend decorative objects, wax chunks, marbles, etc.
Melt the gel, add scent and pour into your container.
The gel does not shrink.
Melting Point: 60 °C
Size: 100g.


INSTRUCTIONS FOR CANDLE MAKING
Get your zinc wick and sustainer ready by glueing it to the bottom of the container.
Clip the wick upright with a bow tie wick holder at the top of the container.
Heat wax over low fire. Two techniques of wax melting are double boil or direct fire (overheated wax will discolour and/or burn your wax).
Once the wax has melted, allow the wax to cool down for a few minutes.
Add Fragrance Oil (the colour of the oil might change the clarity of the wax)
Keep stirring until it is fully melted.
Gently pour the wax into the container.
Allow the wax to be solid at room temperature and cure for 1-2 days.
Gel Wax creates a clear, see-through finish.
We suggest experimenting with a small batch first to achieve the right scent and explore new ways of making gel candles.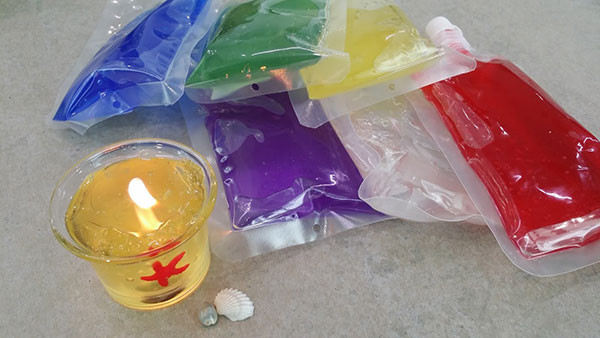 More craft materials are available online and at our craft shop at Craftiviti Sdn. Bhd. (Petaling Jaya, Malaysia).
__________
Diperbuat daripada minyak mineral yang diproses secara istimewa, Lilin Gel adalah sesuai untuk membuat lilin lutsinar dalam bekas dan tidak sesuai untuk lilin batang.
Ianya membakar lebih lama dari lilin parafin.  
Cangkerang, bunga, pasir berwarna, serbuk kilat, dan lain- lain boleh diletakkan sebagai hiasan di dalam lilin.
Lilin ini lutsinar tapi berwarna dan boleh ditenggelamkan dengan bahan hiasan.
Cairkan lilin, tambahkan minyak wangian dan tuang dalam bekas.
Lilin tidak mengecut.
Takat lebur: 60 °C
Saiz: 100g

CARA MEMBUAT LILIN GEL
Cairkan menggunakan cara mengukus (double boiler) atau panaskan secara langsung dengan api kepanasan rendah sepert biasa (lilin terlalu panas akan menyebabkan warna bertukar luntur atau lilin akan hangus).
Sila berhati-hati supaya lilin tidak dibiarkan terlalu panas. Apabila cair, tunggu lilin sejuk untuk seketika.
Tambahkan warna & wangian (Fragrance Oil). Warna lilin mungkin akan berubah jika minyak wangian berwarna gelap.
Kacau hingga sebati. Dengan perlahan-lahan tuangkan lilin ke dalam bekas acuan yang telah dipasangkan dengan sumbu.
Biarkan lilin menyejuk dan mengeras pada suhu bilik dan biarkan selama 1-2 hari.
Lilin yang terhasil akan menjadi lutsinar.
Kami menyarankan agar melakukan ujian dengan sampel kecil dahulu bagi memperolehi wangian dan tekstur yang tepat.