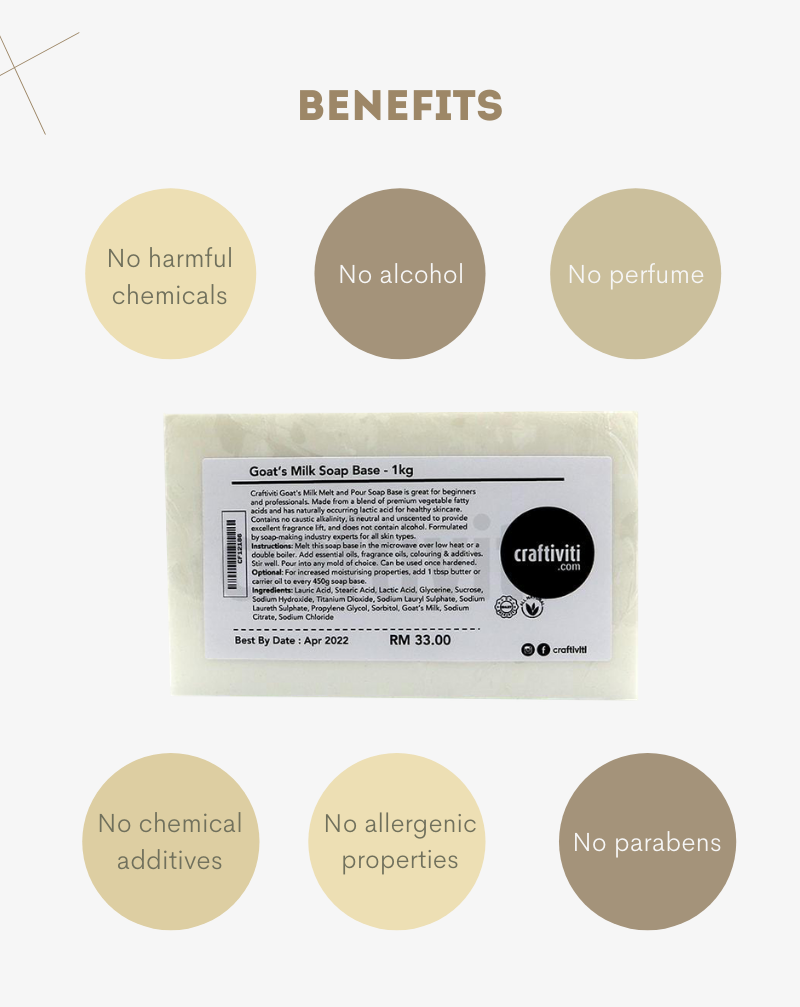 Easy to use and ideal for beginner soap makers, Craftiviti's Crystal Goat's Milk Melt & Pour Soap Base is made with Goat's Milk and is enhanced with extra lactic acid derived from the fatty acid in milk.
This soap base is opaque white, highly moisturizing, long-lasting and firm to the touch. It produces a rich and smooth lather that does not dry out your skin.
2 ways of using this soap
Use as it is. Cut the bar to the size you need. Suitable for total body and hand wash. 
Or, you can melt the soap base and add your own essential oils, fragrance oils, plant powders, soap dye, butters, carrier oils, etc. to customize soaps to your liking.
FUN FACT - This 12kg bar will make at least 120 bars of 100g soaps. Now that's a lot of bars!
Goat's Milk Soap Base Material Safety Data Sheet
Goat's Milk Soap Base Certificate of Analysis
Specification
Size: Available in 1kg and 12kg
Form: Solid bar
Odour: Characteristic Soap Scent (Unscented)
Color: White
Melting Point: 50 - 60

°C

Flash Point: Miscible

pH: 7.5-8.5 (neat at 25

°C)

      9 - 10.5 (1% in water at 25°C)

Biodegradability - Readily biodegradable
Benefits of Craftiviti Goat's Milk Soap Base:
No scent / perfume
No parabens
No harmful chemicals
No alcohol
No allergenic properties
Goat's Milk - boosts 

moisture levels, repairs 

skin

 barrier, prevents fine lines and wrinkles, and reduces acne

High glycerin and moisturizing content
Odourless base (for superior fragrance release)
Good heating stability for repeated melting and pouring into mold
Opaque

Safe for daily use
Benefits of Goat's Milk in soaps:
Boosts skin moisture levels
Repairs skin barrier
Prevents fine lines and wrinkles
Helps reduces acne
"Formulated and appreciated by professional and beginner soap makers for many years"
What makes a good soap base
Check the ingredient list
Get to know the supplier
Let you skin be the judge

Good soap bases do not last as long as commercial soaps because they do not contain fillers, thickeners or hardeners
Make sure your soap base is not too hard or to soft. The consistency when cutting should be like butter
Good soap bases should not smell like chemical or smell offending in any way
Retains color and scent well
Good soap bases are filled with glycerin which is very moisturizing. This causes soaps to sweat if not wrapped up. Sweating is a good sign.
Should not be drying on your skin
How to make soap with Craftiviti Goat's Milk Soap Base:
See here for more instructions: Beginner soap making
Melt soap base in a double boiler or microwave over low heat to prevent over-heating.
Allow the melted base to cool for 5 minutes.
When using Essential Oils/Fragrance Oil, add approximately 1tsp to 450g of the soap base's weight. The strength of the scent will differ oil to oil.
(Optional for moisturising effect) Add 1tbsp of pure shea butter or cocoa butter or any carrier oil to every 450g soap base
You can also add in soap dyes or other additives such as lavender buds or rose petals, etc.
Pour into mold or container and let it set for 2 to 3 hours
Once the soap has hardened, pop it out and cling wrap the soap for keeping. You can use it right away too!
Why choose Craftiviti Goat's Milk Soap Base?

Texture and Formulation
In its purest form, Craftiviti soap bases last longer. Our soaps are also firmer without using any artificial hardeners or chemical additives. When you slice through our raw soap base, you will notice how much resistance there is. The soap base is rich and compact, unlike some which are often light and brittle when cut.
Weight
Pick up our soap bases, and you can tell by the weight alone that it contains only pure soap made from the goodness of rich, pure oils. Pick up a lesser base and the weight is lesser too. This is because our Goat's Milk Soap Base contains no fillers. It only contains pure vegetable oils and Goat's Milk combined with NaOH to create soap in its purest form.
Ingredients
Lauric Acid & Stearic Acid derived from vegetable oils, Glycerine, Sucrose, Sodium Hydroxide, Titanium Dioxide, Sodium Lauryl Sulphate, Sodium Laureth Sulphate, Propolyne Glycol, Sorbitol, Goat's Milk, Sodium Citrate, Sodium Chloride.
For more soap making ingredients, tools, fragrance oils, essential oils, butters, carrier oils, craft kits and DIY workshops, please visit our Award Winning Experience outlet - Craftiviti.

For bulk orders, kindly email enquiry@craftiviti.com.